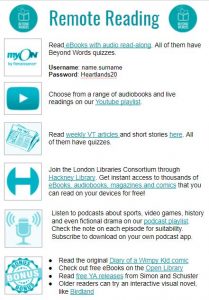 With everything going on, reading, whether it's comics, audiobooks, or an old favourite – is one of the best things children can do for their brain, their emotional wellbeing and their grades.
Whilst we are Heartlands at Home, we are encouraging all students to read for 20–30 minutes a day.
We have put together a 1 page guide on where you can get eBooks, audiobooks, interesting podcasts, Youtube stories – all for free and without getting off the sofa! Remote Reading The second page has some top tips for keeping up reading at home. Please make sure you check my notes for age appropriateness.
How can I help?
Support them to complete the 20–30 minutes reading by reminding them as you would with remote learning

Ask your child to show you what they are reading and ask them questions about it

Listen to your child read. It is not essential that you sit with them (though this is nice) it could be whilst you doing things around the house

Watch a film based on your favourite book with your child and discuss how it is different

Encourage students to quiz on Beyond Words once they have finished a book and to tell their tutor about it during their zoom session.